June 23, 2017
China Blue
China Blue turns 1 this June, and so I decided to make a post about one of my favourite restaurants on its anniversary. And although it's already a year old, many people I know haven't tried it yet, so I'm sharing some of me and my family's favourite dishes here. The first China Blue branch is in Tokyo, and this one in Conrad Manila is only the second! The one here in Manila has a menu conceptualized by world renowned chef, Jereme Leung.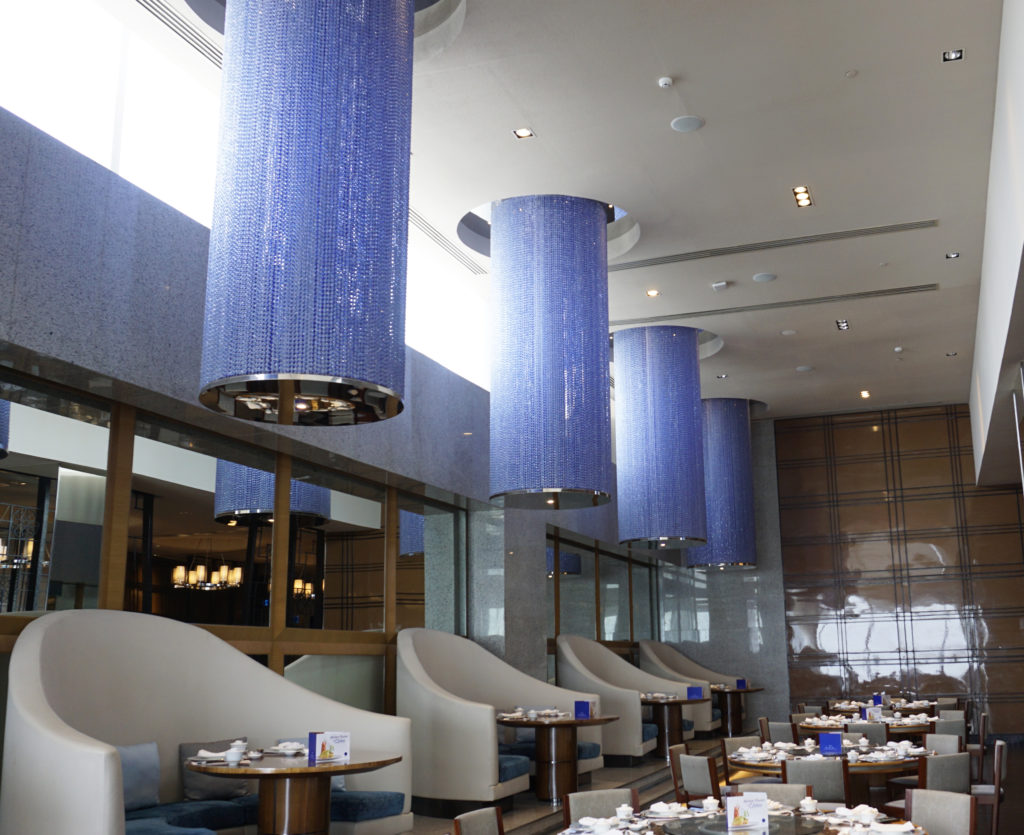 Main Dining Hall
I love the interiors and high ceiling. The other end of the hall has floor-to-ceiling windows with a view of Manila Bay, which I unfortunately didn't get in the photo hahaha.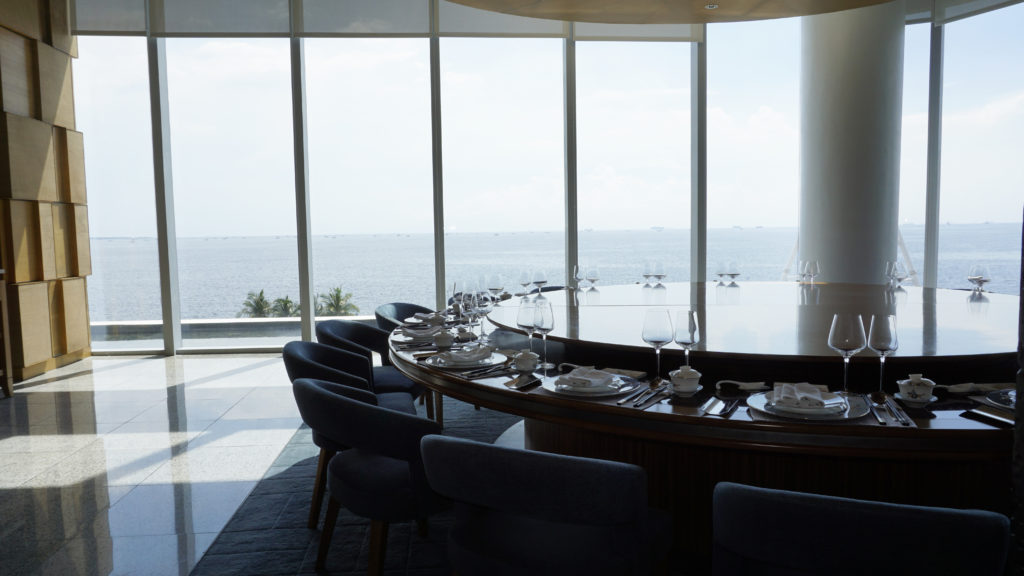 Private Room
Now here's the view I was talking about! If you want a private room, ask for this one at the end of the hall – it has the best view, and I believe it's the only one with a view among the private rooms. The Lazy Susan also conveniently turns by itself so it's not a hassle to get your food in that huge table.
When I go to a restaurant, the number one thing I look for is the taste of the food, and secondary priorities would be food presentation, ambiance, and service. I love this restaurant because the food is good, unique, and presented in such a creative way. And as you've seen with the interiors and view, it gets high points for ambiance as well.
There are many good dishes in this restaurant, but I'm sharing here just a few of the dimsum that I think are really unique.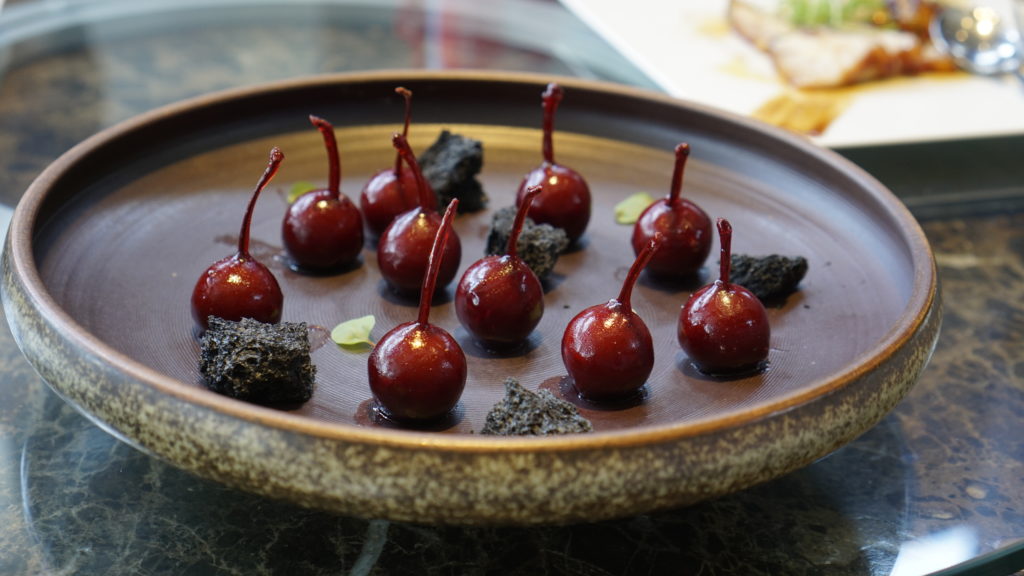 Goose Liver in Cherry Jelly with Squid Ink Crumble
How cute is this? I really love the combination of goose liver with fruity tastes. They wrapped the goose liver in jelly to look like cherries. In my opinion, this dish is good even without the squid ink crumble which has a very subtle taste, but it just adds more texture do the dish. Literally something to chew on.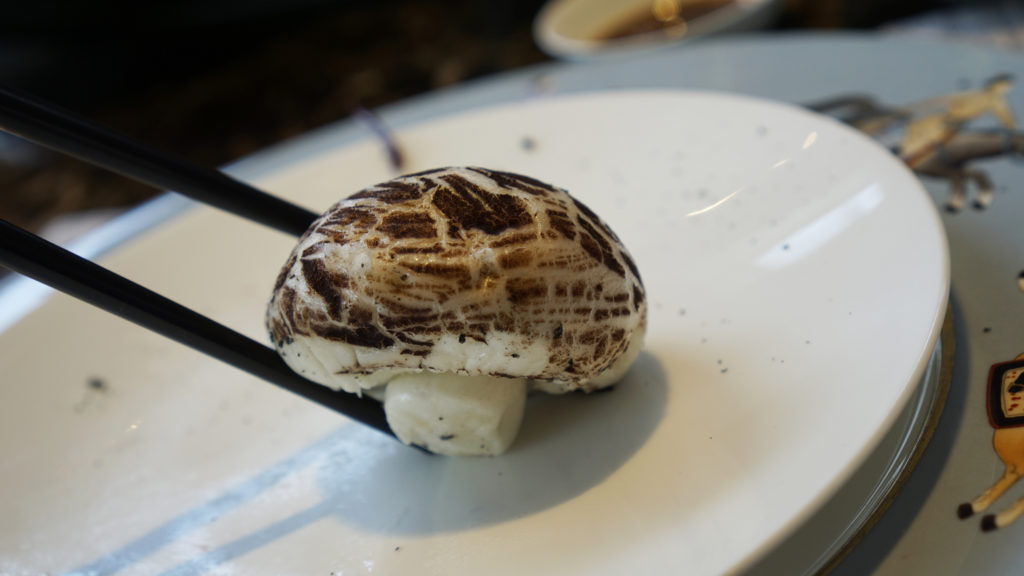 Truffle Mushroom Bun
This is actually like a little siopao, made to look like a mushroom! The real mushroom is inside the "mushroom." Very creative!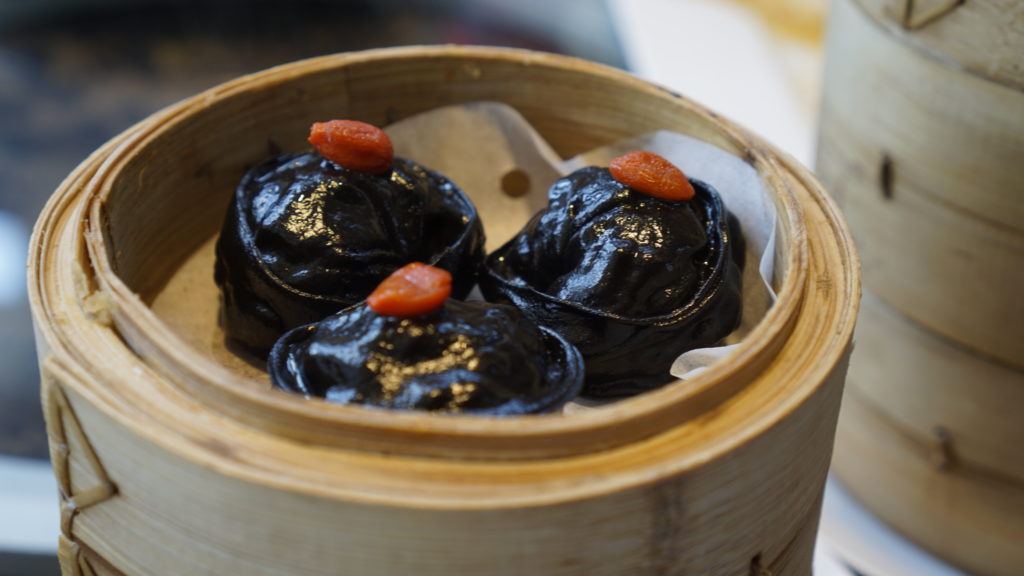 Wild Fungus Dumpling
This is really good and tastes fresh and has so much flavour. There are also no hard bits and pieces on the wrapper which you sometimes find in dumplings.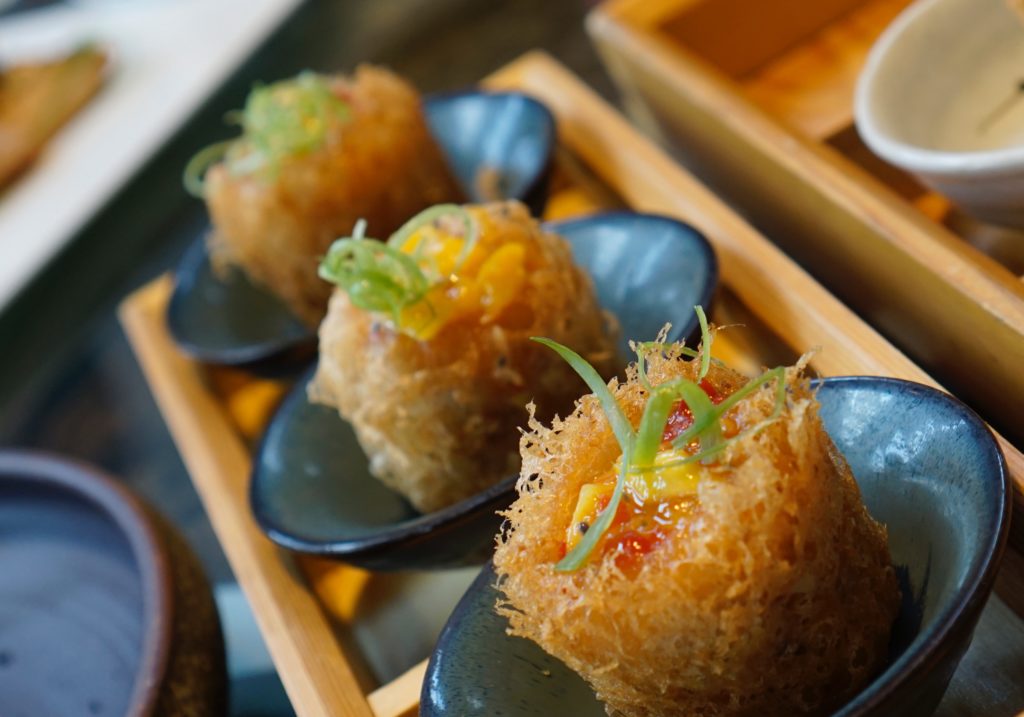 Taro Puff with Scallops
I cannot have dimsum without having Taro puff. As long as it's available, I always order it. So I have basically tried taro puff almost everywhere, and this is one of my favourites. I like that the flavours blend well together, because sometimes in taro puff there are some flavours that are too strong. Aside from the flavour, I like the size. It also has a good ratio of coating and filling. Since taro is so heavy, sometimes I find it overwhelming when the filling is too much, or the coating is too thick. This one is just right.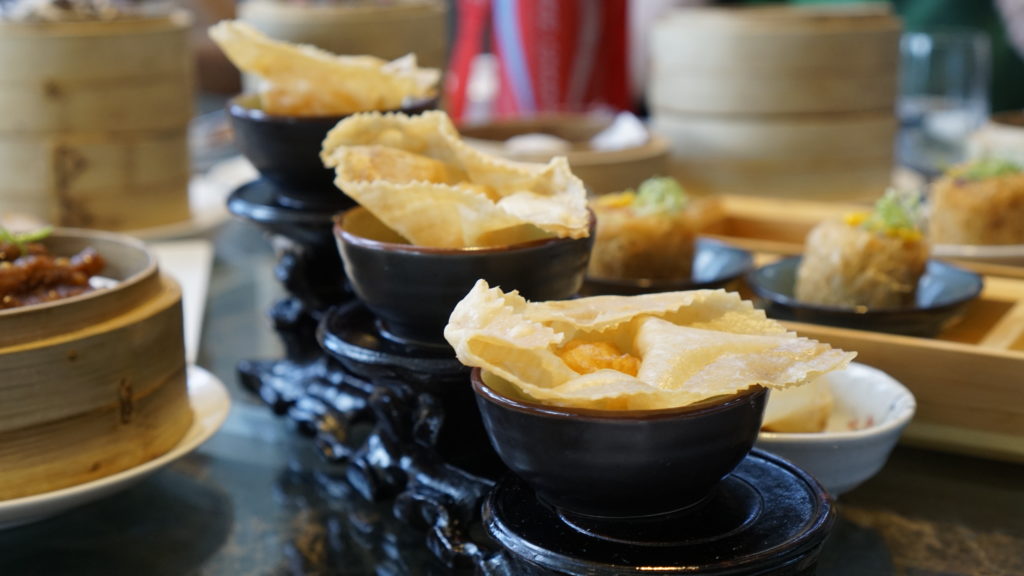 Crispy Wonton
Taste-wise, the "crisp" in this dish is a bit too much, but looks-wise, it's pretty! So I just had to take a photo of it.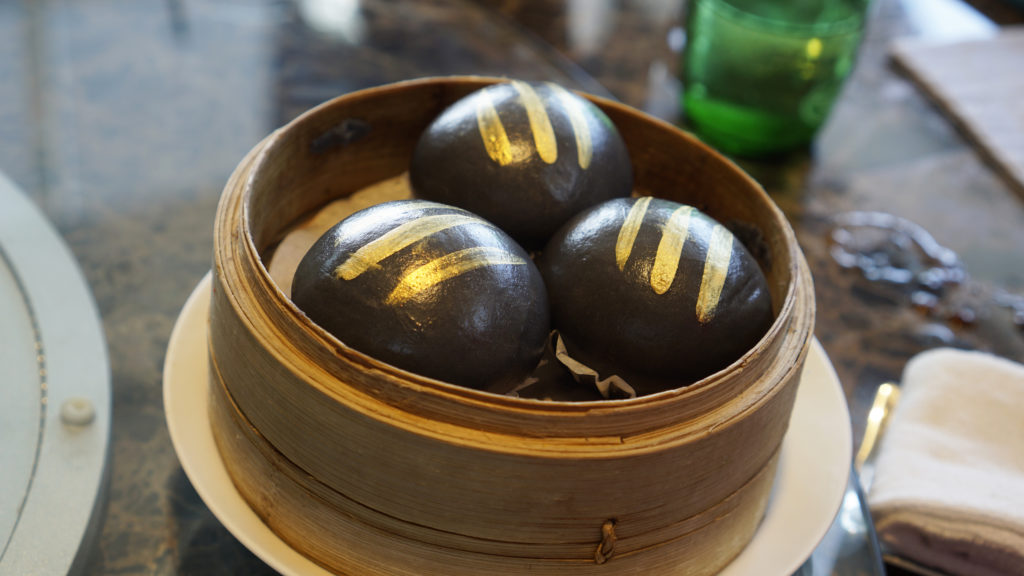 Salted Egg Custard Bun
Now we come to dessert! This is the super yummy salted egg custard bun, again artistically designed!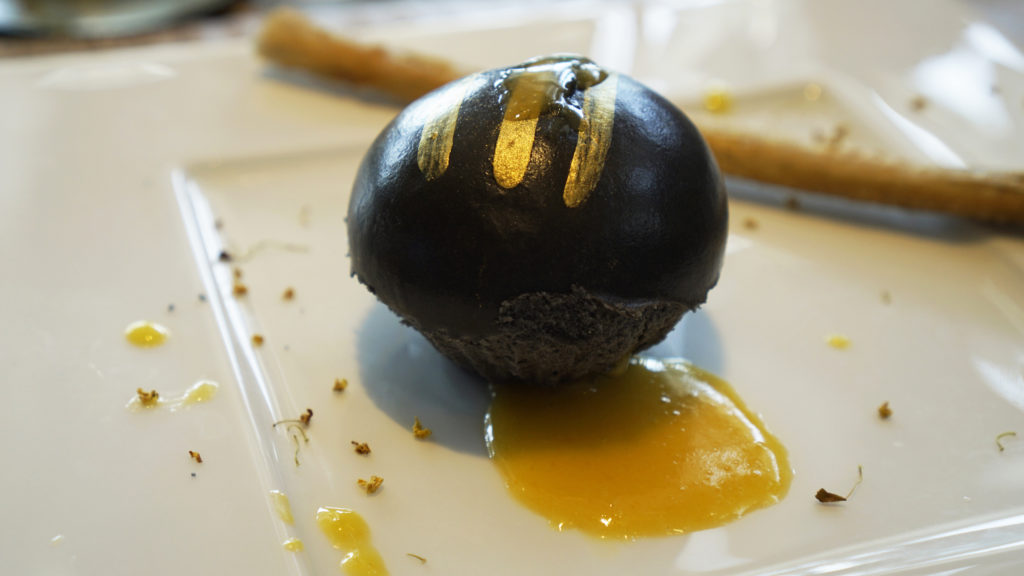 You might be so excited to eat it, but just be careful when you bite into it. I know some people who have had the salted egg custard squirt onto their faces!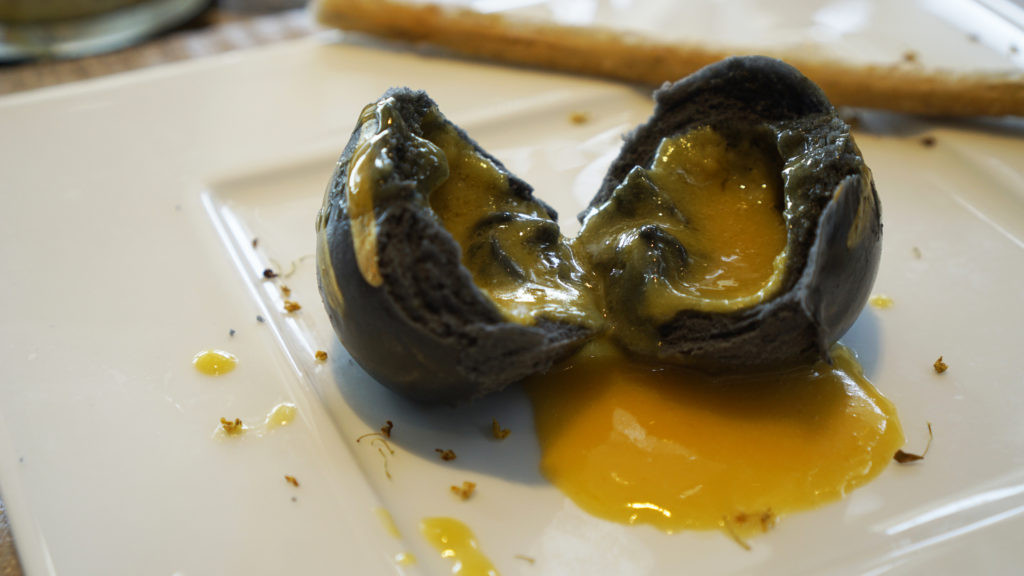 I prefer to just use my fork and knife and cut it open like this – safe from the squirting!
For those who are lactose intolerant, here's a Lychee Sorbet and Almond Pudding with soy milk. This is also a light and refreshing dessert.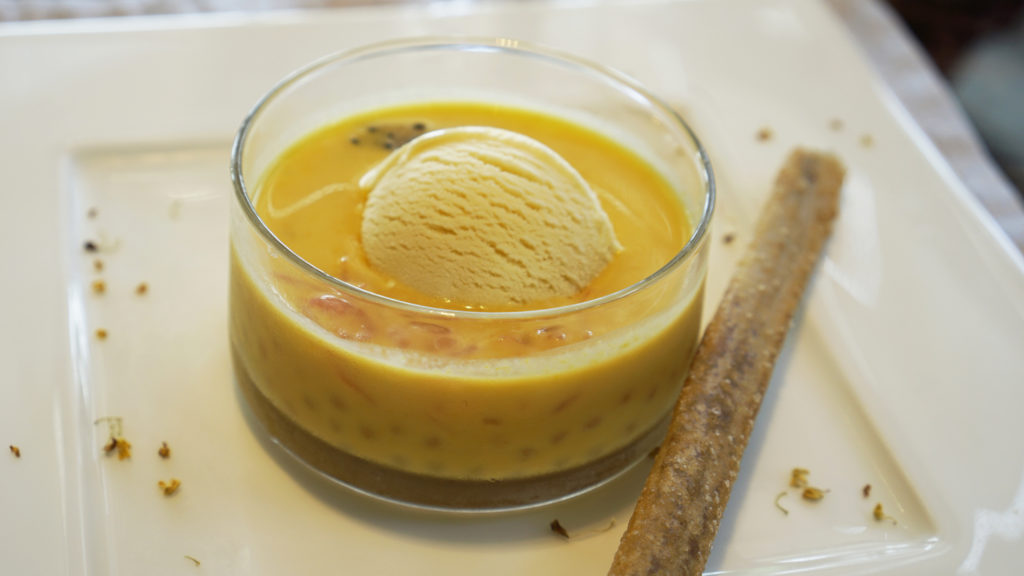 Mango sago
And for those of you who want to end with a more traditional Filipino-Chinese dessert, they have good old mango sago!
Bon Appétit!
If you'd like to check it out, here's their info:
China Blue Direct line: (02) 683-39-15
Conrad Manila: (02) 833-99-99
Website: http://conradhotels3.hilton.com/en/hotels/philippines/conrad-manila-MNLMBCI/amenities/restaurants-china-blue.html